I have yet to fully 'come-down' from Brooklyn Beta. The come-down started the moment I walked away and it was intense. I had just experienced three days of cerebral stimulation and energising company. Walking to High Street station was 'cold-turkey', sobering and sombre. The sombre mood ebbed as the A-train took me North towards 185th Street. I felt privileged, energised and optimistic. I have a lot to consider. Enough about me, for now. What about Brooklyn Beta?
A Conference, Literally
When I think of industry conferences, I am often reminded of commercials and big unveilings of things you sort of know about already. Brooklyn Beta is a conference, the way a conference should be done. Brooklyn Beta brings many creative and technical individuals together in a friendly and a surprisingly, given 1300+ attendees, intimate atmosphere. Personally, I wanted to spend some time with some top designers and get a feel for the design process. I was not disappointed, and I met a wider range of web types too!
The major themes I gleaned from the event:
Platforms make for progress
Make something you love
Create more value than you take
Work hard, be nice
Use the web to get people off the web
I will not review the talks because others have already done so, particularly in the form of sketch notes. Check out @evalottchen's Flickr and Elyse Viotto's Blog – particularly for the beautiful and practical sketch notes of the event (I am envious).
The setting for Brooklyn Beta was the Duggal Greenhouse, Brooklyn Navy Yard, which is a grand edifice, sporting a spectacular view of the Williamsburg Bridge (inadequately captured by my phone).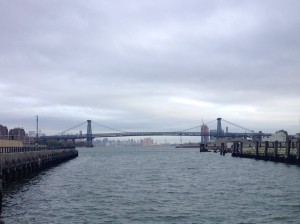 The Invisible Dog
I was privileged to attend a series of talks and activities over the Wednesday and Thursday prior to the main event. The Invisible Dog Art Centre is located in Brooklyn, New York. A wonderful little venue that lends itself well to the Beta crowd. There was an art exhibition on display during the event. Approximately 300 people attended the art house and were treated to a variety of talks, demonstrations and local cuisine. All this against the back drop of Brooklyn, in an area that appears to be going through a renaissance. The neighbourhood is a friendly and vibrant place with oodles of character and charm. Brooklyn is a wonderful place to walk. Street walking with a 'coffee-to-go' is a personal favourite.
There were a number of things to discuss, some of which I am honour bound to not discuss (love the term FriendDA). The highlights for me were David Marquet's talk on leadership, Cloud Typography by H&FJ and a visit from Code Club co-founder, Clare Sutcliffe. A real treat for me at The Invisible Dog sessions were the generous break times, including coffee, with ample time to talk with other attendees.
What's Next?
There's a lot for me to take onboard, a lot of concepts and practices to think about. I gained many insights into areas of the industry, craft and practice that I can take with me into new projects. Personally, I'm going to start with the following:
Change working environments as explained by David Marquet.
Practice sketching for the purpose of note taking – this will be a huge challenge for me.
Tackle my code clubs with renewed vigour, concentrate on enabling the material resources.
Consider design workflow and integration into current and future software development projects.
If you're a developer, designer or other form of web professional – visit Brooklyn Beta! To everyone with whom I shared some time and a drink, thank you!