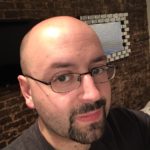 My name is Trevor Adams and I am the Managing Director at T&C Site Services Ltd in Stoke-on-Trent and owner of Trevweb. I am primarily concerned with computing and education. I have spent time as a software developer, system administrator and recently held the post of lecturer in Computer Games Programming at Staffordshire University. I was the undergraduate award leader for game artificial intelligence and multiplayer online game programming degrees – part of the larger computer games programming scheme. Staffordshire University recently achieved Creative Skill Set accreditation for BSc. Computer Games Programming award and I am extremely proud to have played a part in that outstanding achievement.
I wish to experiment with a blog. I am not generally interested in keeping journals but recognise it is a handy way of disseminating information. I have a general interest in computing and specifically programming/software engineering. The topics covered in this blog will likely be spread over a number of area/platforms/technologies. My industry experience includes IT systems in secondary education, hardware support, web development and Microsoft® Small Business Systems. I have developed applications that involved tracking and billing, e-commerce systems and Sage® Accounting add-ons.
My current personal areas of concern are game artificial intelligence, agile development and iPhone development. I am currently working with a myriad of platforms and technology. Recently, this has been primarily open source technology, web applications and PHP frameworks.
It should also be noted that anything I say should be considered my opinion, unless cited, and not that of T&C Site Services Ltd.